Roger Thomson
One Of Australia's Most Experienced Celebrants
Roger Thomson has been one of Australia's leading celebrants for more than 35 years and has a reputation of distinction in the wedding industry. He has won several awards and has many five star reviews.
As a celebrant in Southern N.S.W. and the A.C.T. Roger offers a wide choice of ceremonies and the freedom to create your own wording. He assists rather than imposes with ideas and has the insight to understand what you require, based on years of experience.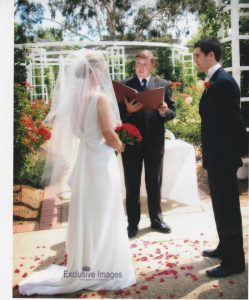 His warm, friendly nature and sense of humour make him easy to relate to and pleasant to work with on your ceremony.
Roger also includes all legal requirements, on-site rehearsals, insurance, travel, lodgment of documents for registration and availability seven days a week from 9am to 9pm for phone discussion, interviews and ceremonies.