Since the mid 1970's the civil or non-religious funeral ceremony has gained favour with people who, although they have religious principles, prefer to have a broad approach to the celebration of the life of a family member.  A civil service caters for the beliefs or non-beliefs of families and friends of the deceased in a general sense without underplaying the importance of the deceased, their life history, their personal involvement with the people attending the funeral and their own wishes.
Many people now specify a civil service in their will, and the personality of the deceased often dictates to their family that a civil ceremony of the appropriate way to say farewell to a loved-one in a meaningful way.  There is also room for composing, with the celebrant, a service that comprises readings, music, symbolism and family participation.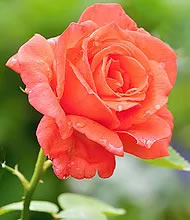 I have, for more than 20 years, conducted more than 1000 services for leading funeral directors in the ACT, in Sydney and at many regional centres in NSW. These are held at the funeral director's chapel, the regional crematorium,  graveside locations and family venues.
I may be contacted personally to conduct funerals, or contacted through your funeral director.
Memorial Services
I am available to conduct memorial services when the original funeral service is held overseas or elsewhere in Australia.